Learn about Duplicating a Project in ScopeStack.
What gets Duplicated
A duplicated project brings over several items and attributes from the source project. Here is a list of items brought over by a duplicate project:
Resources

Professional Services

Managed Services

Project Governance Items

Partner Requests

Collaborators

Vendor Quotes

Products
How To Duplicate a Project
To duplicate a project, first navigate to your Projects list page. Hovering over a project will reveal the duplicate and delete buttons on the right side of the project list.

Click the button titled Duplicate to make a copy of your project.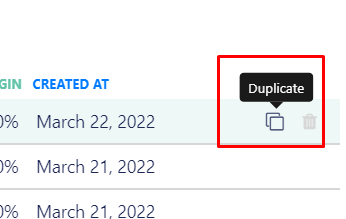 That's it! After completing this and refreshing your browser, you will see a copy project created in your list.
Click here to learn more about working with projects in ScopeStack!
Did this answer your question?